To request Classified space for your item contact Rich, 4redroadsters@gmail.com
________________________________________________________________
1984 Jaguar XJ6 – 154,000 miles – Silver/Red, $2900 Late Season Special!
JCM member says please contact Dick at Foreign Affairs Auto: 952-939-9282 if interested!
______________________________________________________________________
4 Pirelli  210 SnowSport 235/55  R17  99H snow tires for sale.
Beautiful ASA Alloy Wheels on them.
Less than 3,000 miles on them. $300 for all four. Rob Boeck 
651-484-4388
Cash at pick up
---
E-Type parts for sale by member Don Lucast.  Call Don at 612-201-5651
Radiator sub frame for series I and II E-Type.  Part number C20352.  $300
Header tank for 3.8 liter E-Type.  Part number C21512.  $75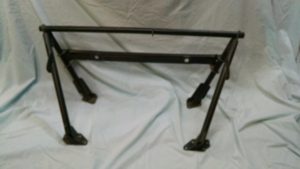 ---
Jaguar & British tools Bought / Sold / Traded.  Call Terry Jacobs at 952-567-4708
---
JCM member has an engine & accessories for sale.  Contact him at tbbrawley@gmail.com
4.0L supercharged motor from a 2002 XKR to sell.  It has 39,000 miles with new heads.  $3500 or best offer   There is also the transmission and other parts (radiator, AC condenser for example) available. 
---
These two items are offered by a JCM member.  Contact him at: jpalmer@usfamily.net
For Sale:  F-8 Borg Warner four speed automatic transmission from 1966 Jaguar MK 10 4.2 Saloon. Excellent condition with only 6300 miles since total professional overhaul, including complete rebuild of torque converter. Complete kit with all lines and controls.  Will fit any Jaguar with 4.2 Litre engine.   $1000 OBO.
For Sale:  Jaguar four speed transmission with Laycock de Normanville overdrive from 1963 Jaguar MK 10 3.8 Saloon.  Low mileage (approximately 50,000) and in very good condition.  Complete kit including bell housing, pedal assembly, flywheel and clutch. Will fit any Jaguar with 3.8 Litre engine.   $1500 OBO.
---
Sample ad – 1994 XJS, 64K miles, black/ivory, call Rich 651-308-7571 or 4redroadsters@gmail.com 
,